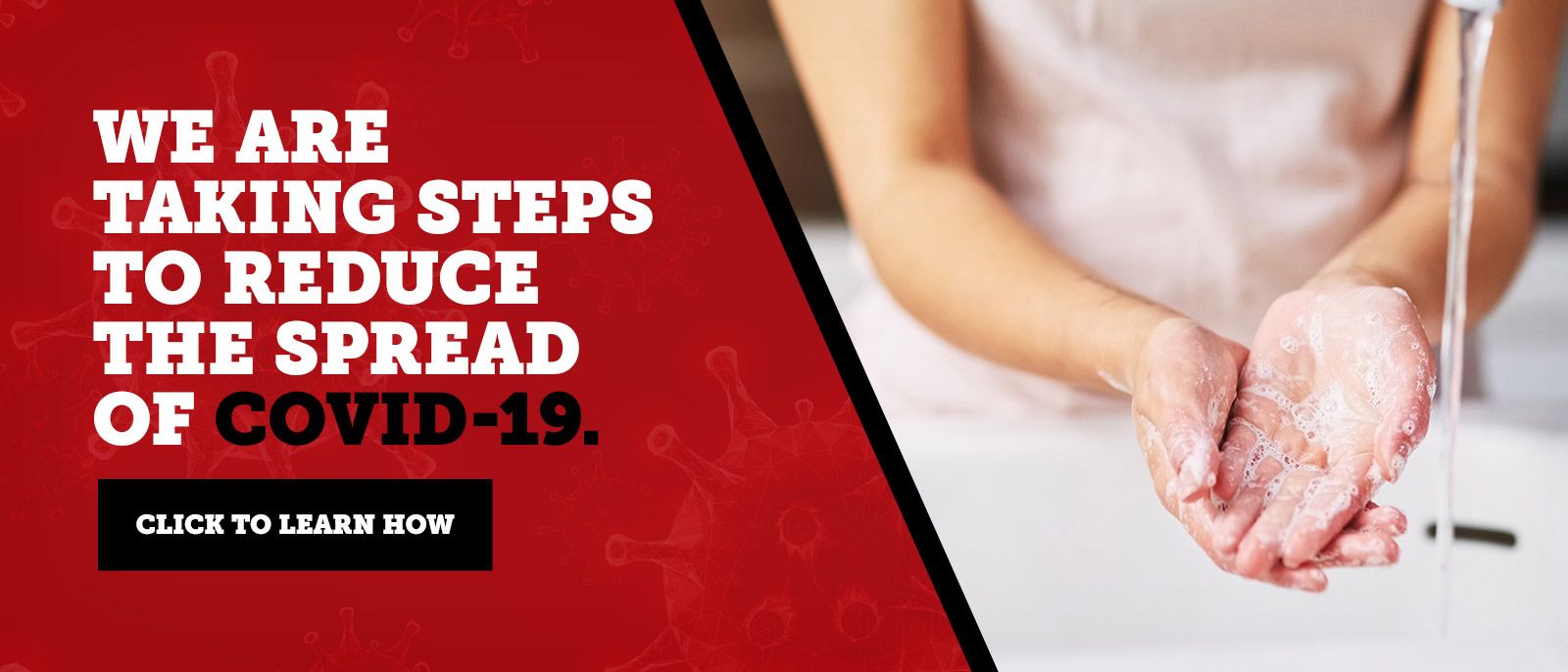 To Our Valued Customers & Friends,
**June 4, 2020 Update**
Great News…Effective June 4th, with Governor Whitmer's latest Executive Order, OUR SHOWROOM DOORS ARE UNLOCKED, NO APPOINTMENT REQUIRED!!!  Yes...Shuman is now able to Sell/Lease New & Used vehicles In-Person in our showroom as well as remotely, stop in anytime!!!  Our Service & Parts department is also open for all your service and parts needs!!  We will continue to operate with limited hours to help protect our staff and customers.
*We do ask our employees and our customers to wear a mask and practice social distancing here at Shuman! 
Here are some details…
New & Used Car Sales
Our showroom is now open or we can remotely and electronically facilitate the sale or lease of a new or used vehicle. Our Sales & Management team will complete the entire process in person or by phone, text, fax, email, and overnight mail...Yes, we will handle the entire transaction with no face to face contact.  Our temporary showroom hours are 9:00 am to 6:00 pm, Monday thru Friday, closed Saturday & Sunday..  Here's how the Remote Sales process works.  
Our Salesperson will reach out to you by your preferred contact method, help you select the perfect vehicle, provide you interior and exterior photos, even drop the vehicle off at your home if you elect to test drive the vehicle prior to purchase.
Our Sales Manager will ensure all incentives you qualify for are applied and provide you a personalized electronic lease or retail quote.
Have a Trade-In? Not a problem! We'll just need to ask you a few questions, get a copy of your registration, and current mileage. We utilize a 3rd party appraisal software to assist us in providing you the current market value for your vehicle.
Our Finance Manager will contact you to answer any questions, submit your loan application, review the various products and warranties we offer, prepare the paperwork for delivery, and overnight the paperwork with detailed instructions for your signature. Once we receive the signed paperwork back, we will process your State of Michigan registration electronically.
We will then schedule a time with you to deliver your completely detailed & disinfected new/used vehicle to your home or place of business.
If you have a lease vehicle that is due to be returned, we can handle it as part of the sales process, some limitations may apply.
Doing our best to follow the CDC & Government COVID-19 guidance to help keep our employees, customers, and their family members safe.  
If you'd like to handle the entire process in-person, not a problem.  Our showrooms are now open!!!
Service and Parts are Open
As service operations have been deemed an essential business by the Governor. Our service & parts department has been here to serve our customers… Our current temporary hours are Monday thru Friday 7:30 am to 6:00 pm, closed Saturday & Sunday.
We'd like to take a moment to let you know some of the measures we've implemented to keep everyone healthy, services we have in place to greatly reduce or eliminate face to face interactions, and some general sales information.
What We Are Doing:
Cleaning…Cleaning…Cleaning.
Our cleaning service will be disinfecting our facility overnight, every night.
Our staff will be disinfecting high traffic areas and vehicles daily.
We will disinfect the interior of our service shuttle and rental vehicles after each use.
Our employees have been instructed on various best practices.
Employees have been asked to wash their hands frequently and eliminate handshakes.
Employees have been asked to stay home if they are sick.
Employees have been supplied and asked to wear a mask in customer occupied areas of the dealer.
Services We Offer:
All these services are designed to limit exposure by never stepping foot inside.
24/7 Online Browsing for New & Used Car Inventory

All of our inventory is listed on our website with detailed equipment and pricing, window stickers, Carfax reports, and multiple photos.
Feel free to submit any questions, we will be monitoring and responding to all customer inquiries.



Online Parts…Sales, & Shipping


Schedule Service Appointment Online


Before/After Hours Service Drop-Off

Just park your vehicle out front, fill out the envelope next to the service entrance door, drop your keys in the envelope, and put it through the door.
We'll handle everything by phone, text, or email, and we'll call you when your service is done.



Park & Lock Service

Once your vehicle is complete, we'll park it out front with the paperwork and keys hidden inside.
Come pick it up with your extra key.
If there is any cost owed, we handle the transaction over the phone.



Service Pick-Up/Delivery

For nearby customers and businesses, we can even come to pick up your vehicle for service and return it when completed. Call for details and availability.
How We Can Help:
Most importantly, know Shuman is here to help during these difficult times. We understand this will likely stress many of you financially. To help, we have various specials in place to save our customers money. Some examples:
Buy 3 Tires, get the 4th for $1¹
Complimentary Alignment & Tire Check²
Complimentary Inspections²
(4) Oil Change Packages for $95³
Daily Service Specials
Check for Recall & Software Updates
Complimentary Car Wash & Disinfecting prior to return²
0% Finance Rates up to 70 Months!
120 Day Payment Deferral
First Responder Bonus Cash...Thank You to all our Brave First Responders!!!
Employee Pricing for All on Certain Vehicles
Crazy Lease Deals on Many Models!!!
Shuman Lease Customers
If you have a vehicle that is due to be returned to the lease company and not replacing the vehicle at this time, we can now handle the return of the vehicle. We ask that you call (248) 669-2010 or email us (info@shumanjeep.com) to set up an appointment.
If you have any questions related to the inspection or billing once the vehicle has been returned, please contact the lease company directly…
Chrysler Capital: (855) 383-0558
Ally Bank: (888) 925-2559
US Bank: (866) 250-3147
If we can help you, please don't hesitate to contact us by email info@shumanjeep.com or call (248) 669-2010. Obviously this situation is extremely fluid. We will do our best to keep you and our website updated on any changes in our daily operations. We appreciate you as our customer and hope you or your family have not been and will not be affected by COVID-19.
Sincerely,
Joe Zeigler, GM
Shuman Chrysler Dodge Jeep Ram
Additional COVID-19 Resources: