Located in the heart of Walled Lake, Michigan, Shuman Chrysler Dodge Jeep Ram sits just over 30 miles northwest of Detroit. Offering small town charm and lakeside recreation, Walled Lake also offers big-city amenities thanks to its easy access into Detroit and surrounding communities. Click the links to learn more about each of the unique and vibrant communities we serve with new, used and certified pre-owned vehicles, friendly customer service, highly skilled maintenance and repair, and financial offerings.
Bob Shuman, owner of Shuman Chrysler Dodge Jeep Ram, is a proud supporter of the Walled Lake community. He believes that in order to have a thriving and welcoming community, it's important to give back. Shuman loves to share the success of his business by supporting in many ways to help better the city and the lives of the families living here. 
Supporting the Walled Lake School District - FFE and the Annual Golf Scramble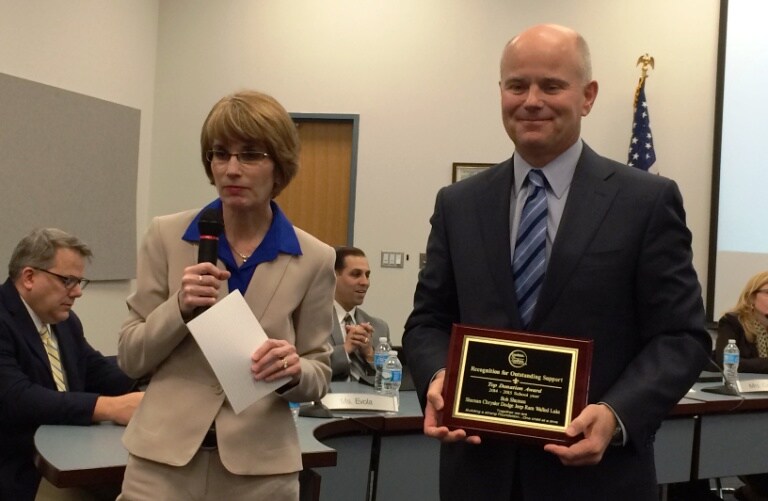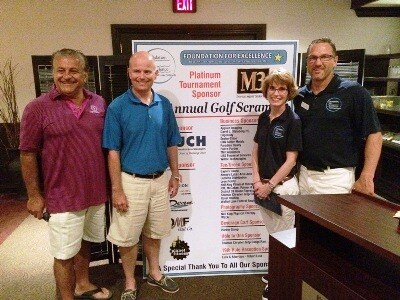 Here at Shuman Chrysler Dodge Jeep Ram, we proudly serve our surrounding communities, offering a convenient and friendly option for car owners and shoppers. Our skilled technicians are certified to offer quality service and repairs to your new, used and certified pre-owned Chrysler, Dodge, Jeep, Ram, SRT vehicles, only using factory parts to keep your car working at its best and most efficient over its lifetime.
When you're ready to trade in your car and purchase or lease a new one, Shuman Chrysler Dodge Jeep Ram offers a modern, welcoming, and clean showroom. Our no-pressure sales environment welcomes visitors to browse, sit in, and test drive a large selection of new, used and certified pre-owned Chrysler, Dodge, Jeep, Ram, SRT vehicles.
Once our educated and friendly sales staff helps you find the car of your dreams, our knowledgeable finance department will walk you through the sales process, making the entire purchase experience a positive one.
---
Walled Lake, Michigan
The city of Walled Lake, located just 30 miles northwest of Detroit and 20 miles northeast of Ann Arbor, is a quaint town boasting quiet shops, local restaurants, and natural beauty as far as the eye can see.
Today, more than 7,000 residents call Walled Lake home. Bustling city streets give way to the gorgeous country side of northern Michigan, complete with trails and lakes that offer endless outdoor activities year-round. From summer festivals to winter-time ice fishing, Walled Lake features something for everyone.
---
Commerce Township, Michigan
Commerce Township, Michigan is a suburb of Detroit and home to more than 40,000 residents. An abundance of rolling hills, flat farmland, scattered lakes, home developments, and the Huron River make the area a serene escape from the streets of downtown Detroit.
Commerce Township offers a long list of outdoor activities year-round, thanks to its secluded beaches and small lakes located just 35 miles north of the city. Hiking, boating, water-skiing, biking, fishing, canoeing, camping, and swimming keep residents and visitors occupied in the summer, while snowshoeing, ice fishing, and sledding keep people active in the winter.
One of the area's most popular spots for outdoor recreation is the Proud State Recreation Area, with nearly all 4,700 acres located inside Commerce Township. Boasting 20 miles of hiking trails (with 9 miles open to horses and bikes), Proud State also offers 130 campsites and a 24-person cabin available for rent.
For residents and visitors looking for entertainment in town, a number of attractions are sure to keep people of all ages and interests happy. The Long Family Orchard, Farm, and Cider Mill offers incredible farm-fresh foods, pick-your-own apples (season-dependent), play areas, sheep-feeding, and goat-petting. In the fall, visitors enjoy fresh apple cider, donuts, pumpkin patches, and corn mazes.
Wonderland Lanes offers a unique bowling experience, while Byer's Homestead delivers a glimpse into the area's rich history.
---
Novi, Michigan
Novi, Michigan is located an estimated 25 miles northwest of the center of Detroit and 25 miles northeast of Ann Arbor, making it the perfect location for Shuman Chrysler Dodge Jeep Ram. The city itself is located at the base of Michigan's glove, allowing its influence to extend throughout the state.
The city has a historically rich background, providing a home to a number of historic sites. These include the Historic Township Hall, the Colonel Samuel White Homestead, and the Novi Depot, which was constructed in 1871.
Along with its rich historical background, Novi also offers a variety of activities for those looking for fun. The city's park system offers a variety of green space, including Fuerst Park, Brookfarm Park, and Novi Dog Park. Novi even boasts the Novi Ice Arena, making it the perfect place to stop when you want to have a bit of winter fun! If you are looking for some time in the water to cool off in hot Novi summers, then Lakeshore Park and Pavillion Shore Park both offer access to the lake, allowing you to cool off in the heat.
---
West Bloomfield Township, Michigan
West Bloomfield Township, Michigan is located in Oakland County within the Detroit metropolitan area. The West Bloomfield area is known for its large homes, picturesque, rolling hills, and many lakes. It is the prevalence of lakes that makes the area known as "the lake township of Oakland County."
It is the area surrounding this lake-and many others-that makes West Bloomfield a lovely place to visit. West Bloomfield Woods Nature Preserve and the Planterra are two major attractions for those who love to spend time outdoors and see an extensive amount of foliage. Trails and green spaces are abundant throughout the township's limits, making hiking, boating, and other outdoor activities a top-choice for many residents.
With these types of activities and its beautiful landscape, it's no wonder West Bloomfield Township was named on Money magazine's Top 100 Small Cities in 2012.
---
Wixom, Michigan
Wixom Michigan is a small city, located just over 30 miles from Detroit's city center. Offering the amenities and community of a small-town, Wixom is just a short drive to everything Detroit has to offer. Wixom is known for its outdoor sports and recreation, thanks to its easy access to a variety of lakes, trails, and camping sites.
Wixom was home to the famed Wixom Assembly Plant until 2007, best known for its production of the Ford GT, the Ford Thunderbird, the Lincoln LS, and the Lincoln Town Car. Today, Wixom is home to a number of other major manufacturing and production businesses, including Discraft, Trijicon, the US headquarters of NGK, MAC Valves Inc, and Foster Specialty Floors.
The downtown area of Wixom has is undergoing a major redevelopment, bringing its once sleepy streets back to life. The Wixom Village Center, located on Pontiac Trail by the city offices will offer a pedestrian plaza, shops, and a number of restaurants in the coming years. 
Wixom is home to a variety of events throughout the year. The Wixom Farmers and Artists Market, an Independence Day Celebration (Lite the Night), and a summer concert series are can't-miss summer events, while a fall fest and "Holiday Markt" bring holiday cheer to the town in November and December.
---
Farmington Hills, Michigan
Farmington Hills, MI is considered a crossroads community located at the heart of southern Oakland County. Although Farmington Hills is just over 20 miles outside of downtown Detroit, the community offers a hometown feel, known for its historical downtown and Victorian-style homes along with Michigan's top-rated school system. Farmington Hills also consistently ranks as one of America's safest cities.
Farmington Hills is home to a recently renovated downtown, a vintage cinema, a number of boutiques, and a long list of restaurants, art galleries, public parks, and exotic car dealerships (thanks in-part to the exceptionally high income of the area).
Additionally, Farmington Hills is home to Michigan's only Holocaust memorial: the Holocaust Memorial Center. The center's purpose is to educate the public about the tragedies and history of the Holocaust, and is well-worth a visit for those who have never been.
For those looking to enjoy the summer months outdoors, Heritage Park, Woodland Hills Nature Park, and Memorial Park are all worth checking out.
---
Southfield, Michigan
Centrally located in southeastern Michigan, Southfield, Missouri is a northern suburb of Detroit. Thanks to its ideal location, Southfield offers easy access to big city amenities without sacrificing suburban charm and convenience. Known as Michigan's premier business and residential town, Southfield is home to 27 million square feet of office space and a daytime population of 175,000.
Because Southfield is not only home to a portion of metro Detroit's upscale office market, but is also host to an extensive network of business commuters every year, the suburb has become a thriving hotspot for the hotel, restaurant, and entertainment industries.
Today, Southfield's convenient location and access to major expressways make it an ideal location for living, working, and playing in the Detroit area. Whether you are just visiting the area, or have lived here for years, there is no shortage of attractions to keep the whole family entertained. Check out a Tigers game at Comerica Park, head to a nearby Detroit casino, see history in action at the Henry Ford Museum, or catch a matinee at Star Theatres Southfield.
If food is your thing, Southfield is your spot. From unique ethnic restaurants to national chains, you'll have no trouble choosing from one of the area's 200 restaurants. Additionally, the Great Lakes Culinary Center offers a range of exciting cooking classes in a state-of-the-art facility, taught by world renowned chefs.