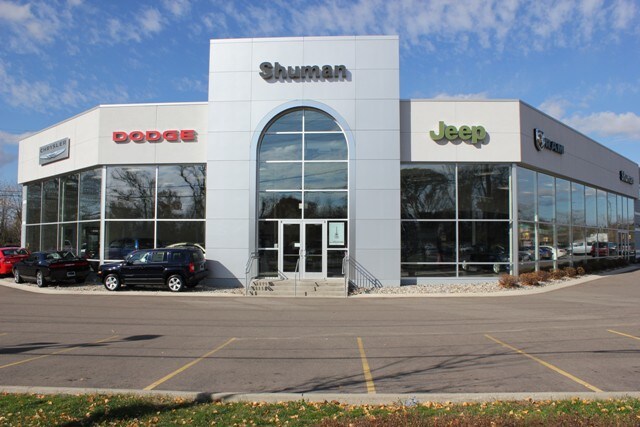 Shuman Chrysler Dodge Jeep Ram SRT...The Biggest Chrysler Dodge Jeep Ram SRT Dealer in Walled Lake is now the 7x National Chrysler Dealer of the Year as determined by DealerRater.com (2013, 2014, 2015, 2016, 2017, 2018, 2019). We'll come back to the DealerRater.com award in a minute but first, who came up with Biggest in Walled Lake? We don't know. We've been doing business in Walled Lake since 1955. Our philosophy is simple. We will beat any ad, any price, period. All dealers buy cars from the factory for the same price. There are no volume discounts for car dealers so we keep our overhead low. You get the best deal from the dealer with the lowest overhead. The place isn't new but we paid off the mortgage long ago. We keep it clean, add on when we need to, and paint it once in a while. We buy the latest computers, tools, and equipment to give our customers the highest level of service at the lowest possible price.
We'll let the other dealers build new Taj Mahal stores. We encourage you to visit these indoor football stadiums and get a cappuccino at their coffee bar. Take a look at the granite countertops and ask yourself one question: WHO THE HECK IS PAYING FOR ALL THIS FANCY STUFF? YOU ARE unless you come to Shuman Chrysler Dodge Jeep Ram SRT in Walled Lake. We are your low overhead dealer.
Now let's talk a little bit about our DealerRater.com award. By the way, you don't need to listen to me, go to the DealerRater.com site, type in Shuman Chrysler, or just type in our Walled Lake zip code 48390 and select the brand Chrysler, and read all the good things that DealerRater.com and our customers have to say about us. Again we're very proud and we thank all of our customers for giving us positive reviews. When it comes to customer satisfaction, (and nothing is more important than customer satisfaction), for 2013 - 2014 - 2105 - 2016 - 2017- 2018 - 2019 we are the number one Chrysler dealership in the whole United States. I'm not kidding, we are the highest ranked Chrysler dealership in the United States. Here is how it works.
Customers can go to DealerRater.com and submit a review of any dealership in the country. At the end of each year DealerRater.com looks at each dealership's total number of reviews and customer satisfaction scores. DealerRater.com crunches the numbers comes up with a powerscore for each dealership in the country. DealerRater.com then announces, for each franchise, the dealership with the highest score by state, by nation, and then overall i.e. the best dealership of all brands. We're very proud to say that for 2013 - 2014 - 2105 - 2016 - 2017 - 2018 - 2019 we had the highest score of all Chrysler dealerships in the country. That's Bentley to Volvo and all the brands in-between, we had the highest overall score of any dealership in the United States. We really are different than all the other stores in Metro Detroit.
That's really all you need to know. If you'd like to know our entire history, here we go: In 1955, my father and grandfather purchased an existing dealership in Walled Lake. In 1967, they purchased six acres of farmland on the northwest corner of Pontiac Trail and South Commerce and built our current facility. In 1996, we doubled the size of the service department and added an indoor all-weather service write- up area. In 1998, we added an automated car wash, employee lunchroom and office space. By the way service customer vehicles are washed on every service visit. In 2003, we purchased five acres across the street on Pontiac Trail, demolished three eye-sore old homes, and built a separate Certified Pre-Owned Vehicle facility. We are now able to stock even more new vehicles.
Yes a brand new 18 million dollar new facility on a freeway off ramp somewhere would be nice but how could we ask our customers to pay for it? In fact, in 2006 Chrysler asked us to move to Lyon Township. We politely declined. Instead in 2007 we built an all-new 14 vehicle new car showroom, new customer restrooms, new customer lounges, new general office area, oh there's a lot more but you get the picture. Then it was the Service departments turn so in late 2016 early 2017 we expanded our service department. Adding 10 additional work stalls and a brand new state of the art dual lane service write up area. Best of all, it's all paid for and our overhead is still the lowest in Metro Detroit. We keep the place clean, carpet and paint when we need to, add on if necessary, get the latest technology and tools, KEEP OUR OVERHEAD LOW and beat any ad, any price, period. It's just that simple. Now we have the best deals, the best location, and the best facility. (And, as always, everything is paid for). Looking back from 2017 we're pretty sure we made the right decision when we stayed in good old Walled Lake.
On March 25, 2010 Chrysler gave us a Dodge Ram franchise and we became the Biggest Dodge Ram Dealer in Walled Lake. No, we didn't get some other poor dealer's closed down store franchise, we were given an open point (as we say in the business) that we've been asking for since 1984.
It's not just about getting bigger. Along the way we've added the latest computer systems and service equipment. Every sales consultant has a computer on his or her desk. There's no running back and forth to a secret tower in our store. Our service technicians have the latest special tools, equipment and computers to fix your vehicle right the first time. We don't have a coffee bar with granite countertops, but we do have a cheap (I mean inexpensive) coffee machine. I clean it and make coffee every morning.
Computers, special tools and equipment are great but we send everyone to training. Sales consultants train on site and off site in Chrysler schools. We have weekly product knowledge contests. Our techs get the latest training. Service Advisors, Parts Advisors, Service and Parts Managers, all receive the best training available. Why? So you don't need to go anywhere else for any automotive need.
Let's review how we are different from our competition: 1) biggest in Walled Lake; 2) best Chrysler dealership in the country for 2013 - 2014 - 2015 - 2016 - 2017 per DealerRater.com; 3) non-commission sales staff (we don't know of anyone else in Metro Detroit that pays its sales staff based on the number of cars sold rather than how much profit there was on each car sold; 4) we won't be beat on price; 5) we won't be beat on customer service and we can prove it at DealerRater.com; 6) oh I could go on all day.
Hey, how did I get here? I was born and raised in this crazy business but I like to talk so I became a lawyer and practiced law in Oakland County for eleven years. Although suing people was fun, I just could not resist getting back to the dealership in 1997 and I'm still here today, every day, full time. We don't own 25 stores in 15 states. This is it in good old Walled Lake. Yes, all our eggs are in one basket so we keep a very close eye on the basket. This is not some two-bit operation. We're probably at least a four-bit operation! While we give our customers small-town, old-fashioned customer service, we are a large volume store. Out of 3,000+ Chrysler Jeep Dodge RAM SRT stores nationwide, we consistently rank in the top 40 in new vehicle sales volume. Jokes aside, we will sell you the vehicle you want, at the price you want.
We have a lot of sayings at Shuman Chrysler Dodge Jeep Ram SRT like: Whatever it takes to get it done; Our People and Our Prices Make the Difference; The Biggest Chrysler Dodge Jeep Ram SRT Dealer in Walled Lake; The Impossible Is Just a Little Bit More Difficult at Shuman Chrysler Dodge Jeep Ram SRT. We really will do whatever it takes to earn your business from giving you the best deal on a new or pre-owned vehicle to providing competitively priced service and parts. So if you live in Walled Lake or our surrounding communities like Commerce Township, Novi, Milford, Highland, West Bloomfield, Bloomfield Hills, Farmington, Farmington Hills, Wixom, Lyon Township, White Lake, Waterford, New Hudson, South Lyon or Escanaba we are only minutes away and ready to help you. Shuman Chrysler Dodge Jeep Ram SRT the Biggest Chrysler Dodge Jeep Ram SRT Dealer in Walled Lake.